Hydraulic Solenoid Valve, 2017-2021-KEYOPO
Issue Time:2017-06-29
HydraulicSolenoid Valve Market report studies in detail the market dynamics of theglobal Hydraulic Solenoid Valve Industry. The Hydraulic Solenoid Valve Marketreport presents the Opportunities, Trends and Challenges that are effective forthe global Hydraulic Solenoid Valve Industry.

Market Segment by Regions– (North America, Europe and Asia-Pacific) and themain countries (United States, Germany, United Kingdom, Japan, South Korea andChina).


Hydraulicparts are the crucial components to modern equipment manufacturing. The globalhydraulic parts market size approximated USD35.2 billion in 2016, up about 2.6%year on year. Driven by the growth of global and Chinese machinery andequipment markets, the world's hydraulic parts market will continue to grow andmay fetch USD46.6 billion by 2021.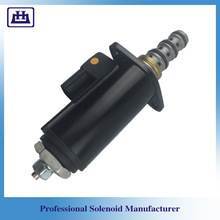 SKX5P-17-212A 24V Hydraulic Solenoid Valve For Kobelco

PartNo.:SKX5P-17-212A
Ref. No.:YB35B0005F1,YN35V0004F1