HZT Summer social practice- Part 2
Issue Time:2016-08-19
Every summer is the busiest and hardest time for college students. Under the scorching sun, thoseyoung and energetic students need to enter a strange society to experience anew life. That is what called the "Summer Internship".
As for those college students who study in Wenzhou, they send knowledge to countryside, sever the local people and even promote the spirit of Wenzhou. Whatever they do the above during the summer internship, we do believe they will be the representatives of the Wenzhou youth in the future. Wenzhou Vocational & Technical College: Go to the Companyto Practice Your Skills
Most companies in Wenzhou have become the best plat forms for students from Wenzhou Vocational & Technical College to practice the professional skills. It is the third summer for Wenzhou Huatui Company Ltd. toaccept students from this college. This year, Huatui allowed 35 studentsmajored in Machinery to start their summer internship.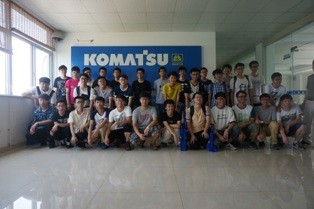 There was a new action for this summer internship----task based operation. The "HTZ Summer Internship Plan"was designed with the core of task based operation and the new model of summerinternship was put into practice. Therefore, 15 students entered the factory,10 students entered the agents of Huatui, and the other 10 students entered thenetwork marketing department.
The company also made the dailyarrangements for students. During the internship, they should organize the daily meetings, weekly meetings and report the progress of the project, the difficulties in the practice as well as the solutions. All these should be presented by PPT. At the end of the internship, they also should do the "task report".